In WWII, STOYAN STOYANOV and the fighter pilots of the ROYAL BULGARIAN AIR FORCE ,engaged in combat against the Allied Air Forces.This was from 1943-44
The site is dedicated to my father,Stoyan Stoyanov, and his comrades-the bulgarian ww2 fighter pilots. Unfortunately the political orientation of Bulgaria forced Bulgarian pilots into combat with other brave airmen who fought and sacrificed their lives for the liberation of the world from Nazi domination.
Vesselin Stoyanov
They all hoped for peace. But there was a war taking place, and brave men from both sides continued to climb into their airplanes and engage each other in deadly combat.Their bravery could be a partial explanation for why the aerial battles were so gruesome!
Col. Jay Stout - F-18 fighter pilot and writer
The U.S. Fifteenth Air Force had more than 1,200 bombers and 600 to 700 fighters at its disposal for operations against targets in southeastern Europe, while we usually had only 30 to 50 airworthy fighters. We all realized what the fight would be like and who the ultimate winner would have to be. In spite of all that, however, we felt that we had to fight for the honor of Bulgarian arms and, if necessary, to die-if only to show the whole world that even though the enemy was much stronger, the Bulgarians fight selflessly when they must defend their military honor, their people and their homeland. The enemy was numerous, but that didn't scare us. We only regretted that our number was so small.
gen. Stoyan Stoyanov
The most difficult aircraft to attack was the B-17 Flying Fortress without a doubt. They flew in defensive boxes, a heavy defensive formation, and with all of their heavy .50-caliber machine guns they were dangerous to approach. We finally adopted the head-on attack , but only a few experts could do this successfully, and it took nerves of steel.
Of all the Allied fighters the most difficult to handle with a good pilot at the controls was the Lightning. It was fast, low profiled and a fantastic fighter, and a real danger when it was above you. It was only vulnerable if you were behind it, a little below and closing fast, or turning into it, but on the attack it was a tremendous aircraft. The P-51 [Mustang] was deadly because of the long range, and it could cover any air base in Europe.
Gen. Johannes Steinhoff - German ww2 fighter ace
Click here for BULGARIAN text
Click here for GERMAN text(Deutsch)
Click here for FRENCH text(Francais)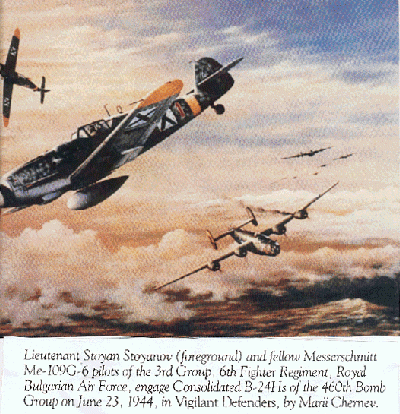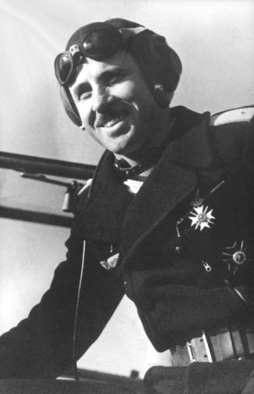 "Dulce et decorum est pro patria mori!" (To die for fatherland is sweet and noble! )
Horace
The aerial war over Bulgaria 1943-44
The war declared in 1943 by the Kingdom of Bulgaria against the USA and Great Britain was a tragedy for the little country. On August 1,1943, an enormous armada of about 700 american B-24 Liberator bombers roared at nearly treetop level across the peaceful farms and villages of several Balkan countries. This mission was operation TIDAL WAVE - the wildiest US raid of WW2. Its target was "the taproot of German might"- Hitler's giant oil refineries at Ploesti,Rumania. Hundreds of US airmen volunteered for the mission despite warnings that half might not return. In thirty minits enormous firepower was exchanged in this battle.
Sofia city and other Bulgarian towns and villages were hit by following air strikes in late 1943 and in 1944. So 187 inhabited places were attacked, 45 000 destructive and incendiary bombs were dropped, there were about 2000 casualties, and about 4700 wounded.There were 12000 damaged or ruined buildings and the total losses were estimated at nearly 24 billion dollars. For the citizens of Sofia the "Black" days were: 14/11/ and 24/ 11/, 10 and 20/12/ 1943, 10/01/, 16, 24 and 30/03/, 17/04/1944 when large formations of B-17 and B-24 bombers ruined some parts of the capital city. In total about 23000 enemy's sorties were registered over Bulgaria in the years 1943-44.
Aircraft shot down by bulgarian fighters in 1943-44:
5 B-17 bombers
41 B-24 bombers
10 P-38 fighters
4 P-51 fighters
-----------------
Total: 60
Allied Airforce crew lost over Bulgaria:
Killed 108 men
POW 329 men
The aces of Royal Bulgarian Air Force
Bulgarian pilots were brave, well trained.Some flew the Me-109 G2 and G6 -a German made fighter plane with very good performance . The best pilots were lieut. Stoyanov, Captain Toplodolsky, lieutenants Bochev, Cvetkov, Damev and many more. 19 bulgarian pilots died in the war.The enemy had 60 planes, shot down by Bulgarian fighters and about 430 airmen. In the Christian tradition, Bulgarian people respected the fallen enemy when they could. At some places airmen were buried as American heroes with the necessary honor given to such soldiers. On the other hand ,329 airforce crew-members and pilots were captured and kept in the war prisoner's camp in the town of Shoumen .

Later some of them ,such as lieut. John MacLendon,2nd lt. Edward E. Tinker, R. Renar and others remembered and described the brave way, Bulgarian pilots fought , as if they defended the world's most sacred place. The most striking examples of the spirit of the Bulgarian pilots are the two "battering-rams"(live torpedo) over Sofia. The first one was on 20.12.1943 when lieuten. Dimiter Spissarevsky at full speed stabbed a B-24 bomber and died at the heith of 20 000 f. , his body raining down with thefalling pieces of his plane.The second "battering-ram " was that of lieut. Bonchev on 17.04.1944 when he downed a B-17 bomber ,but he miraculously survived the crash.

...AND SEE WHAT HAS HAPPENED 60 YEARS LATER. CLICK
Ace No 1- lieut.Stoyan Stoyanov
-biography, victories, awards, after war life, ALBUM
One of the most victorious fighter pilots,the one with the most aerial victories was lieut. Stoyan Stoyanov. His victories are as follows:
1/08/43 -----B-24(Liberator) ---shot (crew captured as POW)
1/08/43 ------------B-24 ------------------ damaged
24/11/43----------- B-24 ------ ------------damaged
10/12/43------------P-38 (Lightning)---------damaged
20/12/43------------B-24 -------------------damaged
10/01/44--------------P-38 ------pilot captured as POW)
23/06/44----------- B-24 -shot (crew captured as POW)
24/06/44 ---------- B-24 --shot(shared victory) and crew captured as POW
26/08/44---------P-38--------------shot

CLICK HERE TO READ HIS STORY ABOUT THE FIRST VICTORY OVER B-24 BOMBERS AND THE SAME COMBAT DESCRIBED BY ENEMY FIGHTERS

"....I am not a very religious although I have graduated from a seminary but, just in case, I cross myself. In a few seconds I must aim my guns . I chose the machine in the middle, the leading one, flag-man of the group. If I manage to put it out of action, I can probably prevent their possible wish to hit the capital city."

CLICK HERE TO READ ABOUT ANOTHER VICTORY OVER A B-24 BOMBER AND THE SAME COMBAT DESCRIBED BY AN AMERICAN TURRET GUNNER -CREW MEMBER OF THIS AIRCRAFT .

Stoyanov, neglected by the communist regime after the war, has lived and worked for about 30 years as a guide of visitors in the famous Rila Monastery .

RELATED WEBSITES:

CLICK to see all WW2 ACES!

ANOTHER AVIATION WEBSITE click

CLICK to see the NOTES IN A USAAF PILOT'S DIARY ABOUT BOMBING OF SOFIA on March, 1944!

Eminent guests of this website:

Col. Jay Stout- a fighter pilot of F/A-18 "Hornet" and author of the book"Hornets over Kuwait" (The Desert storm air war in 1991) and "FORTRESS PLOESTI-the campaign to destroy Hitler's oil"

Lieut. General George Loving-a P-51 Mustang Ace from ww2 and author of the book "Woodbine Red Leader".


Sgt. Robert Johnson-Top gunner of B-24 bomber in ww2 and author of the book "Gidi Gidi Boom Boom"

This site is a member of WebRing.
To browse visit Here.
Contact : vstoyanov1222@abv.bg
REFERENCES:
J.Dugan and C. Stewart. Ploesti - The great grand-air battle of 1 August 1943 (USA-2002) p. 202-203
Jay Stout. Fortress Ploesti - The campaign to destroy Hitler's oil (USA-2003), p. 68-70, 180-185
Sgt. Robert Johnson. "Gidi Gidi Boom Boom"(USA-2006) p.134-139